Give Us A Call In Bridgewater When You Are Facing Water Damage
11/25/2019 (Permalink)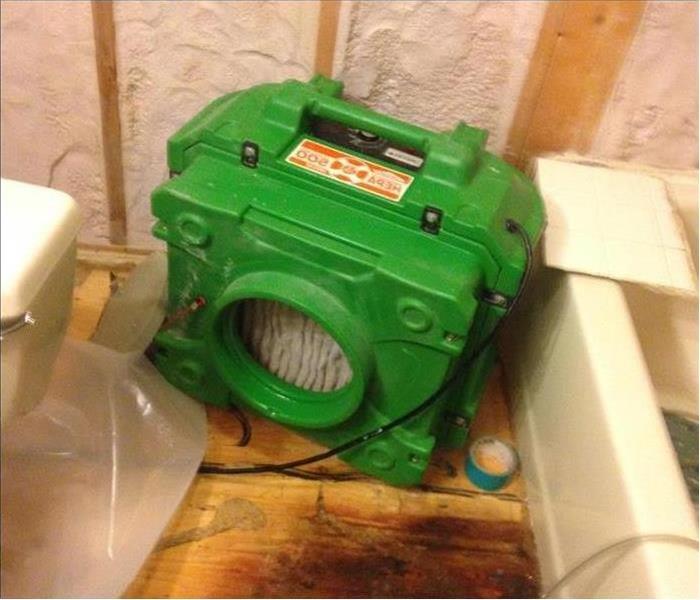 The air scrubber removed the last vestiges of foul odor from the mold damage in this Bridgewater home's bathroom.
Equipment for Removing Water from Carpets in Bridgewater Homes
Carpeting is a common flooring material for Bridgewater homes, and as such, our SERVPRO professionals have a large inventory of recovery tools explicitly tailored to carpet restoration after a water loss. Water migration can quickly saturate the primary material in carpeted floors, but also soak through to the padding and subflooring materials underneath – which can be an even more devastating and costly situation without prompt intervention and mitigation by trained restoration professionals.
Wet carpeting can be among the most challenging water removal tasks for Bridgewater homes our experienced technicians face. As is the case with many water loss effects, the faster that certified professionals can get to work on the problem, the more likely it is to get restored on-site rather than succumbing to tear out and reinstallation. Though we have a team of licensed general contractors in-house, we seek to restore before replacing materials whenever possible. We have numerous specialty tools designed explicitly to help with removing water from saturated carpeting.
Stationary Weighted Extractors
Among the most common choices for forcing excess moisture from carpets, pads, and subflooring is a stationary extractor tool. These use the weight of our SERVPRO restoration technician standing on the flat top of the base of this unit to displace moisture and force it to the surface of the carpet for collection by the onboard vacuum.
Self-Propelled Extractors
The more advanced version of stationary extractors involves motorized weighted water damage extraction units that compress the carpet and padding to also force moisture to the surface for removal. The primary difference is a constant motion from these units that can help our technicians to more efficiently reduce the saturation of carpet in an entire floor of a property. These units also can utilize the added weight of our technicians with a ride-on functionality.
Removing water trapped in carpeting within the first few days following a loss incident can help to preserve this flooring and prevent tear-out and later reinstallation. No matter how our SERVPRO of Bridgewater team can help after a water emergency, give us a call at (908) 222-2020.
See more about Bridgewater.