Bridgewater, Fire Damage, SERVPRO and Cleanup
6/17/2021 (Permalink)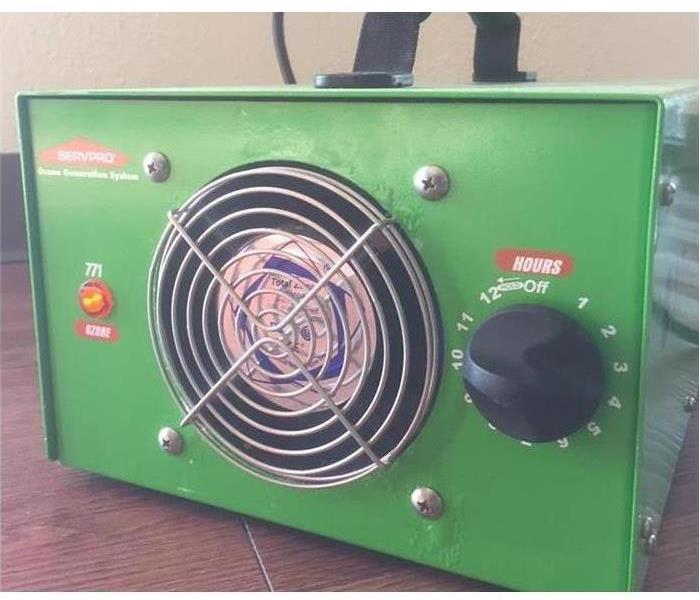 Bridgewater homeowners benefit from the ozone machine from SERVPRO for fire and smoke damage cleanup and odor control
Professional Fire Damage Restoration in Bridgewater
The devastation of a fire in your Bridgewater residence quickly brings home how involved the cleanup is. Residues spread everywhere, on all surfaces. The soiling differs from regular dirt and grime, and DIY efforts to clear it away often make it worse. Dozens of tasks face fire remediators, and our experts are familiar with the work needed and use proven strategies to complete the project fast and thoroughly.
When fire damages your Bridgewater home, you might be surprised to note that water and chemical damage are two of the first things to manage. Firefighters leave vast amounts of water and chemicals behind after extinguishing the flames. Water causes considerable damage on its own, and its presence creates a slip and fall risk and exposes everyone in the building to electric shock possibilities. Because we are a full-service restoration company, holding multiple certifications from the IICRC, our assessment team adds water remediation to the project blueprint as phase one.
House Fire Clean Up
SERVPRO assessors inspect all areas of your home and evaluate the types of residues deposited in different places. Dry, ashy soot from burning wood and paper dry sponges and vacuums away. Thick, sticky soot from fabrics, plastics, and electronics smoldering needs a cleanser enhanced with wetting agents and surfactants to loosen the coating and often agitation to eradicate it. Kitchen fires deposit a thin, smelly layer of protein-based soot, requiring solvents and abrasive tools and action to resolve.
Odors present a challenge, lingering even after SERVPRO removes all the other toxic wastes left by the fire. Our deodorizing technicians follow a detailed protocol to remove and clean any burned item or surfaces still emitting smells. We inspect HVAC systems, cleaning and sealing hard-to-reach areas if the odor emanates from the air ducts. Technologically advanced equipment like thermal foggers, ozone machines, and hydroxyl generators help eliminate airborne and settled odor-bearing particles. These approaches change the chemical makeup of the minute bits of combusted materials still sharing unpleasant odors at a molecular level, neutralizing the smells.
Rely on SERVPRO of Bridgwater to manage all aspects of fire damage remediation fast. Our highly qualified professionals are available 24/7 by calling (908) 222-2020 immediately after the firefighters leave your home.