Bridgewater Water Damage Happens Every Day
7/13/2022 (Permalink)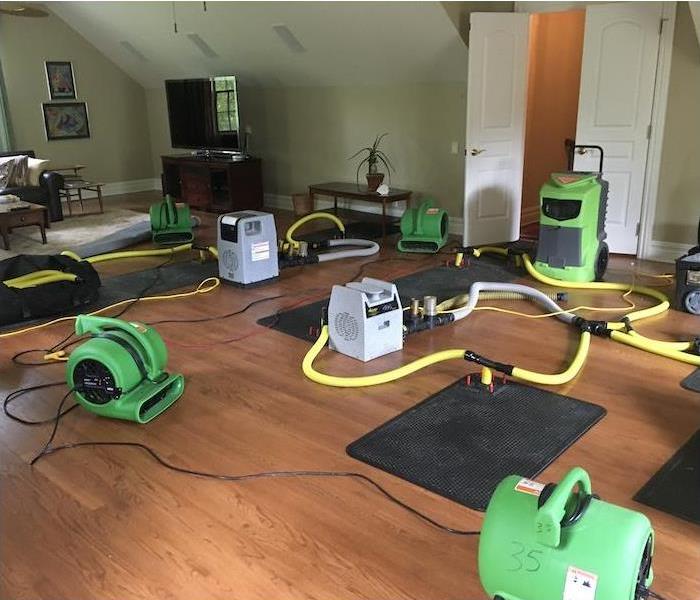 SERVPRO has the tools and skilled technicians your Bridgewater home needs after water damage occurs. Give us a call today.
SERVPRO Restores Bridgewater Homes' Water Damage
Water emergency disasters that leave your home exposed to standing water and moisture concerns are among the leading restoration needs for residences in Somerset County. Because this can happen at any time, our team is ready to respond quickly from our facility for:
Burst pipes
Leaks
Appliance failures
Spills
Flooding
No matter how Bridgewater water damage results, our SERVPRO professionals must act fast to help. We have a fleet of service vehicles capable of mobilizing quickly in a crisis to provide the needed mitigative actions for your property.
What Makes SERVPRO Qualified?
We must showcase our experience and knowledge of the restoration industry in every job we undertake. This can be as direct as utilizing the top practices for recovery but can also include answering customers' questions to help them through the restoration processes. Our accreditation through the IICRC makes our WRT-Certified professionals well-equipped to manage mitigation and remediation.
How Do We Mitigate Damage?
Mitigation is a needed phase of the recovery process for area homes, as this works to protect the structure and its contents from further water damage. Each aspect of these emergency services contains the spread of loss effects and limits the destructive impact on the property. Some of these early actions can include:
Extraction
Demolition/Repairs
Content Relocation/Cleaning
Water Removal Services
Removing standing water is one of the most prevalent aspects of the mitigation process. It is vital to get this extraction started as soon as possible, which is one of the objectives for the fast response from our centrally located facility. Water removal services are treated with the same urgency, whether the Raritan Valley Community College or single-family homes for the nearly 45,000 residents. We arrive with dozens of tools ranging from pumps to vacuums to manage this pooling.
Water Damage Repairs
Because our professionals also have a general contractor license, we can complete the build-back services your property requires. After water damage incidents, this can mean removing bulk materials during mitigation, repairing the plumbing, or reinstalling removed structural elements. Our capabilities in this regard allow us to transition to this connected phase of recovery after restoration seamlessly.
Content Relocation and Cleaning
Beyond the damage to the structure resulting from moisture and water exposure, contents can also be highly compromised. Prolonged exposure can leave many personal belongings irreparably harmed and ruined. Homeowners must take management of these items seriously. Much of the restoration of these items can happen on-site, which can include:
Drying
Surface Cleaning
Disinfection
Deodorization
Mold Prevention
Thorough Drying Tools
It is one of the most intricate and necessary processes to thoroughly dry the house after a damage event. We consider all affected materials and spaces impacted by migrating moisture to ensure appropriate measures get taken. The entire process is monitored with sensors and detection devices to track the progress of drying elements like:
Air Movers – These high-velocity units produce powerful blasts of dry air to evaporate surface water on building materials in the residence.
Dehumidifiers – Moisture content in the environment, which continually increases with the production of air movers, is managed by dehumidification equipment. These units remove humidity through absorption or condensation.
Drying Mats – Hardwood, engineered wood, and vinyl plank flooring can benefit from large mats that draw moisture to the surface for removal.
Bridgewater water damage events can be disruptive to your everyday life, even when it does not force the relocation of the house occupants. As leading restoration professionals for the Raritan Valley, we are ready to help you get life back to normal after disasters. Call our SERVPRO of Bridgewater team today at (908) 222-2020.