What Is The Best Response To Fire Damage In A Bridgewater Hotel After A Flash Fire?
7/29/2021 (Permalink)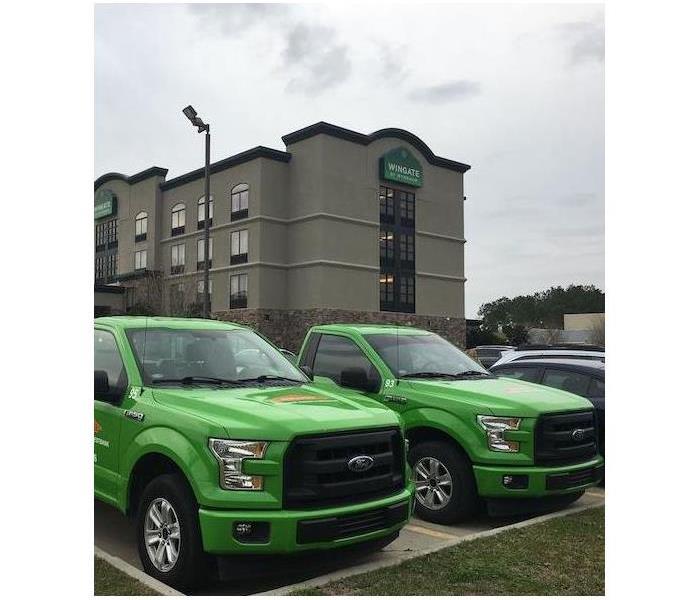 You can count on SERVPRO's skilled technicians to restore your hotel after fire damage. Just call (908) 222-2020.
SERVPRO Delivers Fire Restoration Services that Guarantee Re-establishment of Sanitary Conditions
A flash fire may not leave significant damages in your Bridgewater hotel if you manage to put it out in good time. However, since it is characterized by high temperature and a rapidly moving flame front, it might leave residues and unwanted odors in unexpected areas.
Apart from dealing with the physical fire damage, your Bridgewater hotel also needs other processes to ensure sanitary conditions. Our SERVPRO teams help by containing the affected areas, thus halting cross-contamination. We also clean heavily soiled surfaces such as tiles to restore food-grade cleanliness. We achieve this by combining various resources, including training, experience, and advanced equipment.
The Right Resources Are Crucial in Addressing Many Unique Problems During:
Fire damage restoration
Smoke remediation
Water & fire damage restorations
Fire restoration
Flash fires in hotel kitchens mostly involve grease or protein, among other materials. When such materials combust, they tend to leave smelly and sometimes invisible residues. The extreme temperatures tend to open up pores on surfaces driving residues deeper into the surfaces.
Our SERVPRO technicians use specially formulated cleaning agents that can lift away the stubborn residues from surfaces. Sometimes, our crews' patience cultivated over the years is the answer since a single application might not suffice.
Physical agitation also helps. We use various equipment, including pressure washers and rotating brushes, to provide the necessary agitation power. Our SERVPRO crews also clean areas beyond the directly affected areas, thus eliminating all traces of residues.
SERVPRO of Bridgewater is a seasoned service provider dealing with fire damage in business premises. You can reach us at (908) 222-2020. We're Faster To Any Size Disaster.